Waikiki Shell | Honolulu, Hawaii
Hawaii Symphony Orchestra pays tribute to "The World's Greatest Rock 'n Roll Band." Together with Windborne music's conductor, Brent Havens and singer, Justin Sargent, they bring you, The Music of The Rolling Stones, rocking out at the Waikiki Shell on Saturday, May 28th 2022. HSO and Brent Havens perform The Music of The Rolling Stones: Mick Jagger and Keith Richards 1969 to celebrate the 50th anniversary of The Rolling Stones' iconic albums Beggar's Banquet and Let It Bleed. Featuring tracks from these two albums, including Sympathy for the Devil, Street Fighting Man, Gimme Shelter, Midnight Rambler and You Can't Always Get What You Want, as well as other classic hits from their ABKCO years, such as Let's Spend the Night Together, Brown Sugar, Ruby Tuesday and more.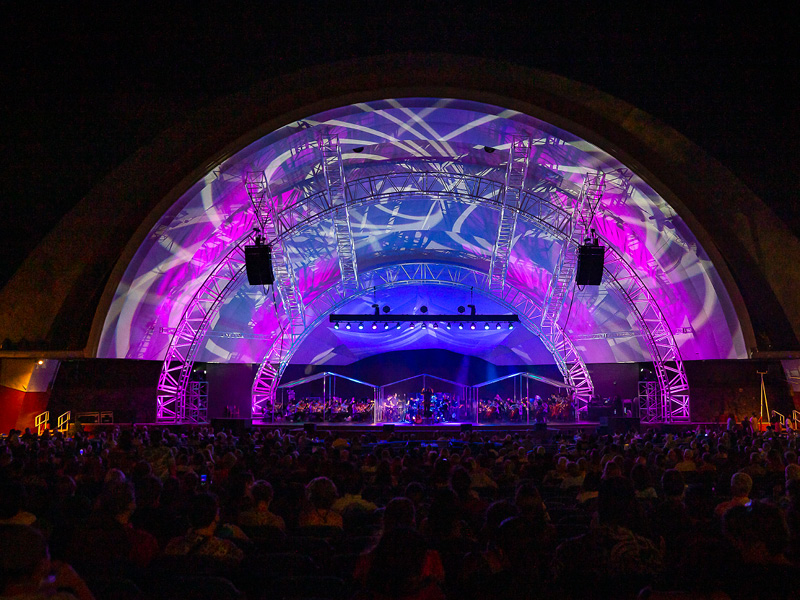 Created in 1990, Windborne Productions, Inc. initially worked exclusively on both Television and movies. But in 1995, with a special production of The Music of Led Zeppelin everything changed, since then Windborne personnel have traveled the world touring The Music of Led Zeppelin, Pink Floyd, The Eagles, The Doors, Queen, Michael Jackson, The Who, U2, Whitney Houston, the Rolling Stones and Journey, performing them all with orchestras great and small.
Conductor, Arranger, and Producer Brent Havens and his Windborne Music Rock Symphony shows continue to be some of the best attended and most exciting Classic Rock symphony shows in the country. He has masterfully combined symphonic arrangements with a full rock band and singer to deliver the greatest hits of these legendary bands, one of the purest rock experiences you will find anywhere, and also featuring an incredible rhythm section, background singers, world-class sound and light show.
Broadway Star, singer and actor, Justin Matthew Sargent, famous for his portrayal of Peter Parker in Spider-Man: Turn Off The Dark, Drew in the mega hit rock musical in Rock of Ages, and was in the Original Broadway Cast of Bonnie and Clyde. He has performed alongside music legends like John Legend, Alice Cooper, Sara Bareilles, Dee Snider, Kip Winger, Graham Russell, and has been a guest singer with the band Air Supply. He has toured the country singing everything from Queen to Andrew Lloyd Webber.