Waikiki Shell Seating Chart
With any outdoor venue comes a wide range of spacious seating and the Waikiki Shell is no exception. A large full rounded stage, the most up to date professional lighting, sound and equipment means that seeing a performance here is an unforgettable experience.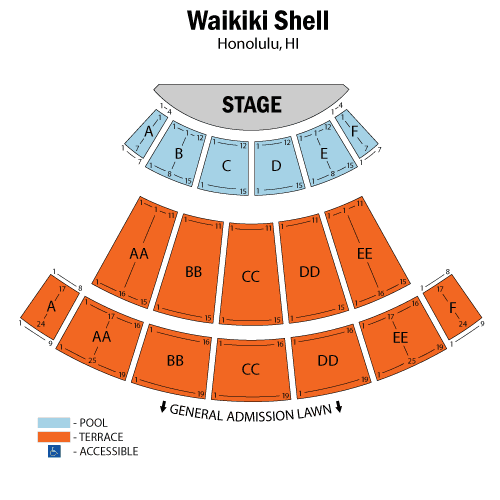 Fans can decide whether they'd like to be up close and personal in the 19,000 seats in the stadium, this is perfect for those who are passionate about entertainment. Or take the option to choose from 6,000 spaces on the green lawns, these are ideal for concert go-ers who like to kick back, relax and hang out with friends/family.
If that wasn't enough, there are also 505 extra seats right at the front and 320 banquet tables, whatever your preference, there's no doubt that this comfortable and versatile arena will have it covered!
For more advice and to see how the view looks from different areas, take a look at the venue photos and seating chart.