Waikiki Shell | Honolulu, Hawaii
Come and laugh with your entire OHANA! The "funniest comic" in Hawaii is coming to Waikiki this fall. Get ready to "Laugh under the Stars" as Augie T brings a night of SIDE-SPLITTING LAUGHTER and unforgettable memories.
COMEDIC GENIUS Augie T will be bringing his razor-sharp wit to the Waikiki Shell on Saturday 28th October. His infectious energy and QUICK-FIRE HUMOR will have you in stitches from start to finish.
But there's more to this incredible event! Augie T has a heart of gold and a deep commitment to making a POSITIVE DIFFERENCE in the world. In the spirit of giving back, "Laugh under the Stars" will serve as a fundraiser for the B.R.A.V.E. Foundation, a non-profit organization that stands against bullying.
Don't miss your chance to be a part of this remarkable night filled with laughter, love, and a strong sense of community. Mark your calendars, grab your tickets, and join Augie T and special guests B.E.T under the starlit Waikiki Shell!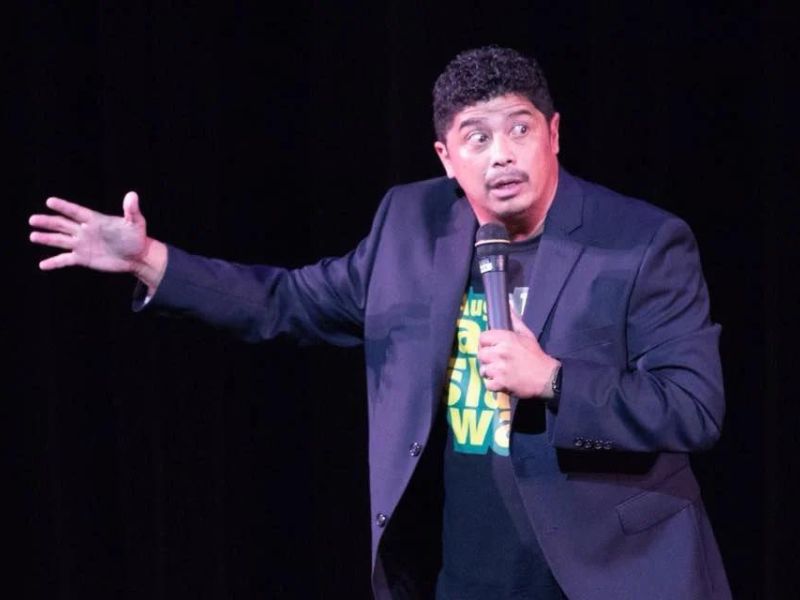 Get ready to have an unforgettable evening of laughter and entertainment as you "Laugh under the Stars" with Augie T. This comedic legend will captivate you with his razor-sharp wit, exploring every topic, and ensuring no funny bone goes untickled.
With a remarkable career spanning over three decades, Augie T has solidified his position as one of the most influential figures in Hawaii's vibrant comedy scene. His ability to connect with audiences, deliver jokes with impeccable timing, and leave fans in stitches from start to finish, has earned him the esteemed title of the "funniest comic" in all of Hawaii.
Augie T's comedic genius has not gone unnoticed, with numerous prestigious awards lining his trophy shelf, including the highly coveted best comedy show title by Honolulu Magazine. In addition, his remarkable talent has earned him not one, but two Na HokuHano Hano awards, which stand as Hawaii's equivalent to the Grammy Awards. These accolades serve as a testament to his exceptional wit and his ability to bring joy to audiences.
But Augie T's talent doesn't end there! As a proud member of the Filipino community, he holds a special place among Hawaii's top 100 influential Filipinos, representing diversity and inclusivity far and wide.
This incredible evening offers more than pure comedic genius. It's an opportunity to witness a true master of the craft in action and support a worthy cause simultaneously! "Laugh under the Stars" will serve as a fundraiser for B.R.A.V.E., a non-profit organization that courageously stands up to bullying. Founded by Augie T's daughter, Mahealani Sims-Tulba, B.R.A.V.E. has gained international recognition from the Princess Diana Foundation and the Hawaii State Senate.
Get ready to have your funny bone tickled and your spirits lifted under the twinkling stars of the Waikiki Shell. With the majestic Diamond Head in the distance and the shimmering Pacific Ocean just beyond, Waikiki Shell is an open-air venue that promises an evening filled with the spirit of aloha. Mark your calendars, secure your tickets, and "Laugh under the Stars" with your OHANA!