Waikiki Shell | Honolulu, Hawaii
Get ready to fall in love, at its very best as The 1975 heads to Honolulu, bringing their massive global "At Their Very Best" trek to Waikiki Shell on Sunday, 6th of August 2023. Flying across the world, while 'being funny in a foreign language, the band is set to take its chart-topping new album and their best hits, at their very best, live on stage. Every single night, the band serves its newest anthems such as "I'm in Love with You" and "Happiness", and spruces things up with their greatest hits, from start to finish. As Matty Healy continues to rock his world of bad-boy music that could make or break hearts, The 1975's roster of rockin' anthems is definitely one for the books! As addictive as 'chocolate, you'll definitely sing at the top of your lungs as "Girls", "The Sound", "Somebody Else", and "Oh Caroline" turns up the crowd. Don't miss out by booking your tickets now!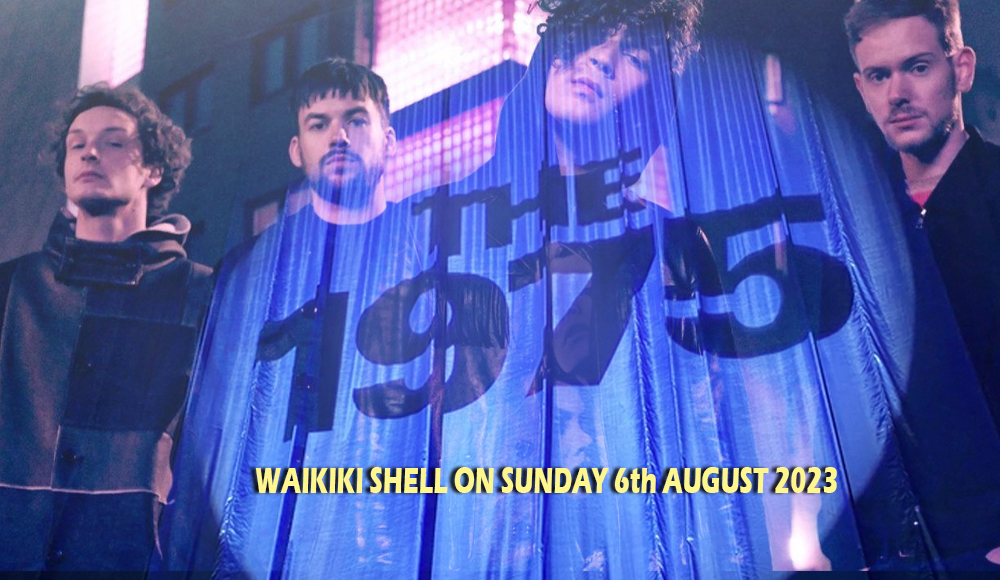 From teasing its new record through postcards sent to its fans, The 1975's "Being Funny in a Foreign Language" graced airwaves with a slew of hits and crowd-favorite anthems including "Oh Caroline", "All I Need to Hear", "Happiness", "Part of the Band", and "I'm in Love with You". Currently on a global tour run, "At Their Very Best", the band is definitely giving it their all, bringing its new era to life while giving doses of their greatest hits from start to end. Inspired by capturing life's precious moments, "Being Funny in a Foreign Language" encapsulate's the band's ability to share experiences with their fans across the world.
"So we just wanted this record to be really like a captured moment and not be too constructed and even produced that much….," Matty Healy shared in an interview with Zane Lowe. "And it's us having fun. And I think that there's this real desire in art to see something remarkable with as little technology as possible."
Like every 1975 album, the band embraces shifting vibes which becomes apparent at their live shows. This time around, Healy and the band deliver a theatrical aesthetic and experience to their rockin' arena treks. "It kinda started from this idea of bringing a theatre show into an arena," George shared with DORK. "There's always been that theatrical element to our 'arena rock show'," Matty added. "we realized that all of our albums had been complete diversions from the previous album, but our show had kind of been a distillation of each previous show," explaining how the band's newest trek is an expansion of the band's "neon-dreamworld".
Taking the world by storm with a slew of pop-rock indie-styled anthems, The 1975 amassed a cult-like following for their character, angst, and diverse musical styles. The band's greatest hits include "Chocolate", "Girls", "The Sound", "Somebody Else", "TooTimeTooTimeTooTime", "Love It If We Made It", "Me & You Together Song", "It's Not Living (If It's Not With You)", and many more.
Dominating the scene with five UK #1 records, people definitely can't get enough of Healy and the band's rockin' masterpieces. The live experience it brings is undoubtedly a night to remember. "I think, especially with this tour, we'll be playing a more randomised set of songs," shared Healy.
Don't miss out on The 1975's "At Their Very Best" live on stage at Waikiki Shell by booking your tickets now!