Waikiki Shell | Honolulu, Hawaii
As concert venues come back to life, H.E.R. fans got a question at the back of their minds; when's the R&B icon gonna make a comeback tour? Well, fret no more as H.E.R. brings Back of My Mind back on the road as she embarks on a series of shows across the country in support of her much-anticipated debut studio album, Back of My Mind. She'll be stopping by at Waikiki Shell on Friday, April 8, 2022. The Grammy-award-winning woman is famed for her smooth vocals on hits with catchy hooks including "I Can't Breathe", "Focus", "Slide" featuring YG, and "Best Part" with Daniel Caesar. Catch H.E.R. perform her biggest hits, fan-favorites, and fresh new tracks from Back of My Mind on this special night. Book your tickets now!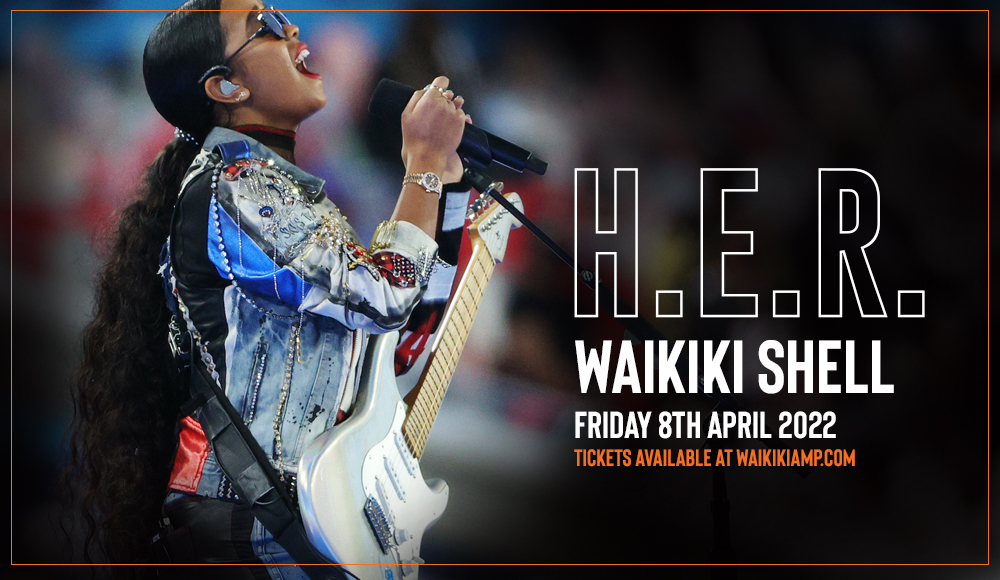 Gabriella Wilson, or as well know the soulful woman as H.E.R., hails from California to a Filipina-American mom and an African-American dad, growing up known as a child prodigy. The global sensation, known for her soul and R&B-induced hits, performed an Alicia Keys track on the piano in the Today Show at age ten. She also performed on Maury, Good Morning America, and The View. After competing on Radio Disney's The Next BIG Thing at 12, Gabriela signed with RCA at the age of 14, dropping her debut single "Something to Prove" as Gabi Wilson.
Wilson, or as the world knows her as H.E.R., definitely has got something to prove and took the world by storm as she re-emerged under a new persona, dropping the 2x Platinum awarded single, "Focus" in 2016. Usher, Pusha T, Tyrese, Wyclef Jean, Alicia Keys, and Bryan Tiller all expressed support for H.E.R.'s debut EP, H.E.R. Volume 1. The global superstar, Rihanna, posted a clip on Instagram with H.E.R.'s single, "Focus", in the background, garnering over 5 million views, boosting word about the emerging artist.
By 2017, H.E.R. appeared on various lists including Rolling Stone's 2017 "10 Artists You Need To Know", and Forbes' "5 Alternative R&B Artists to Look Out for in 2017".
From then on, the woman gained massive success in the R&B scene, boosted by massive celebrity support, and attracting a huge following for her smooth, emotional, and soulful R&B tracks that fans around the globe can't get enough of.
As successful as she is, H.E.R. continues to dazzle the world under a mysterious persona, with her music being the focal point all throughout. H.E.R.'s notable hits and fan-favorite tracks include her debut single "Focus", "Could've Been" feat. Bryson Tiller, "Slide" feat. YG, "Damage", "This Way" with Khalid, and the global 5x Platinum hit, "Best Part" with Daniel Caesar.
After 5 EPs that took the R&B scene by storm, H.E.R. finally released her debut studio album, Back of My Mind, in 2021. She has eight Grammy nominations for 2022.
From an emerging child prodigy who sang that she's 'got something to prove, Gabi definitely made it to the 'best part, being highly acclaimed in the R&B scene, finally dropping a much-awaited record, and being able to come back on tour and meet the fans who made it all possible. H.E.R. and fans can finally chant and sing 'we made it as she leads the crowd live on the stage at the Back of My Mind tour. Book your tickets now!