Neal S. Blaisdell Center - Waikiki Shell | Honolulu, Hawaii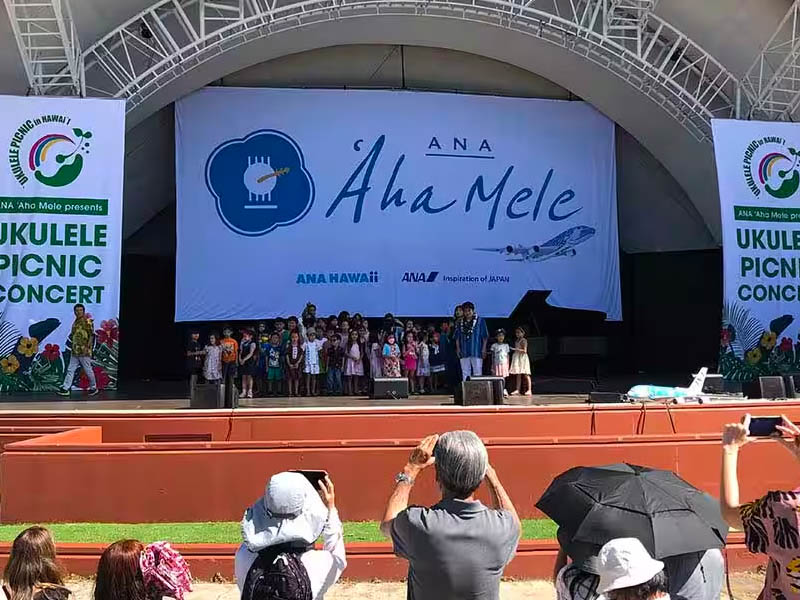 It's Honolulu's most groundbreaking cultural and musical exchange, and it's set to conquer the city's most iconic amphitheater! This is your chance to experience what Hawaii has to offer by catching the season's most anticipated event! The ANA 'Aha Mele brings forth the most exciting music extravaganza to Honolulu, Hawaii! This fall, the music exchange will promote the region's rich heritage, culture, and environment! The four-day spectacle will feature a plethora of performers, including Japanist virtuoso Nobuyuki Tsujii and several Hawaiian artists, who will light up the Waikiki Shell on Sunday, 19th November 2023! The beauty of Hawai's environment and the abundance of its cultural heritage has long been a priority for many! ANA has also promoted Hawaii as a social, cultural, and environmental hub that welcomes visitors from all over the world! In line with ANA's conservation initiatives, the ANA 'Aha Mele provides music and art lovers an epic weekend with incredible performances! Hurry and secure tickets now tickets now to Ana 'Aha Mele, happening at the Waikiki Shell this fall!
The highly-anticipated ANA 'Aha Mele is a follow-up to the ANA Honolulu Music Week. First held in 2019, the music festival paved the way for the promotion of Hawai'i's rich cultural heritage and environment. Last year, the festival was renamed ANA 'Aha Mele. This event is a joint effort by ANA, various environmentalists, contributors, and more. Through music, the event will highlight the importance of Hawaii's resources.
Japanese pianist Noboyuki Tsujji will take center stage on Sunday, 19th November 2023! The critically-acclaimed performer is currently one of the most sought-after pianists in the world. He has performed with countless esteemed conductors and premier orchestras. Being born blind, Tsuji has been praised by fans and critics for his unique learning technique. Tsujii will learn orchestra pieces by ear in addition to Braille. During an interview, he mentioned, "I learn pieces by listening, but it doesn't mean I'm copying CDs or another person's interpretation. I ask my assistants to make a special cassette tape for me. They split the piece into small sections, such as several bars, and recorded it (one hand at a time). I call these tapes 'music sheets for ears.' It takes me a few days to complete a short piece, but it takes one month to complete a big sonata or concerto." Tsujji is also a phenomenon on stage. Not able to see the conductor, he said that he had learned the technique of listening to the conductor's breath and sensing the events happening around him.
Noboyuki Tsujji has performed with countless world-class orchestras, including the London Philharmonic Orchestra, Royal Philharmonic Orchestra, Tokyo Metropolitan Symphony Orchestra, and the Los Angeles Philharmonic. His musicianship has also earned him numerous accolades, including Critic's Award, Beverley Taylor Smith Award, and Japan Film Critics Award.
Besides Noboyuki Tsujji, ANA 'Aha Mele will also feature a number of local Hawaiian artists! The Waikiki Shell is one of Honolulu's most esteemed venues. Located in Kapiolani Park, the concert grounds provide attendees with plenty of space to move around. The venue is equipped with 2,400 seats plus standing space for additional 6,000 attendees. Guests can enjoy the lovely Hawaiian weather during fall while basking in the outstanding music brought by ANA 'Aha Mele cultural and musical exchange! Join the ANA 'Aha Mele on Sunday, 19th November 2023, by securing your tickets now through the Get Tickets link!